Care Management
Care management is a set of clinical services designed to assist a patient and his or her support system in best managing medical conditions and the behavioral and social problems that can arise from them.  At Michigan Kidney Consultants, your Care Manager will work with you in person, or telephonically, to help prevent or delay kidney disease progression through a personalized care plan.  Care management helps support your healthcare goals between your visits with your Nephrologist and Nurse Practitioners.  Support may include post hospitalization follow up, educational materials, medication management, collaboration with primary care and other specialists, blood pressure management, diabetic support, recommendations for community resources, and advanced care planning.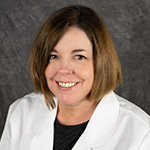 Lisa Burnand, B.S.N., R.N.
Care Manager
Lisa earned an Associate Degree in Nursing in 1992 from Oakland Community College and completed Bachelor's Degree in Nursing from University of Detroit Mercy in 2015. She has a strong background in both hospital and home health care settings. Lisa has a passion for teaching and coaching patients to manage their health care independently. She works in collaboration with your physician, nurse practitioner and dietitian to make sure that you have all the tools needed to preserve your kidney function and lead a healthy lifestyle. In her spare time, Lisa enjoys time with her family, gardening and embroidery.